Planning wedding transportation for all your guests? Don't leave your most important day to anyone but Gold Coast Coaches.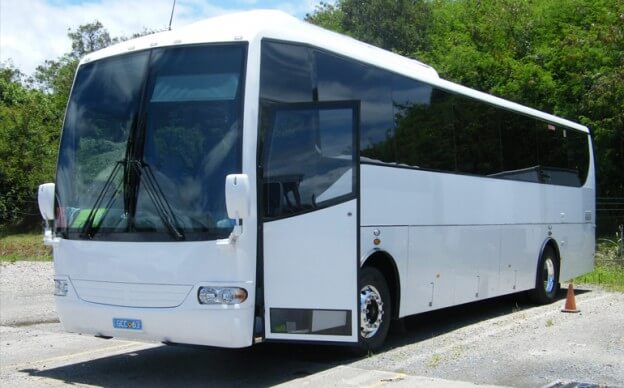 Your wedding day is one of the most important days of your life, and no one wants to spend the day with more stress than they absolutely need to. From picking out the perfect dress to setting the venue, arranging the food and managing all the decorations, there is a whole world of things to take care of.
However, with Gold Coast Coaches, we make sure that finding the right mode of transport for all your incoming guests is not one of them. With our vast range of luxury wedding buses for hire, we provide not only a cost-effective means of transport, but also provide the peace of mind you deserve for the day knowing that your precious guests are in good hands.
If you are thinking of arranging wedding transport for a large group of people, hiring a bunch of limos or taxis might seem like the obvious choice, until you realise how expensive and messy it might get to synchronise all of them properly. This is where a bus rental becomes the better choice. Not only does it become more cost-effective to transport large groups, everyone gets to arrive at the destination together. It becomes especially helpful when you have guests arriving from out of town who are might not be entirely familiar with all the areas. A wedding bus charter can help you pick them up right from the airports, and take them to the wedding destination all together, at the same time.
Still not convinced? It is common that alcohol will be present at most wedding ceremonies, and while you want everyone to enjoy and have a good time, you also want them to be able to get back home safely. Instead of worrying about who is sober enough to drive, you can just let our wedding bus driver take care of it and let everyone else loosen up a bit for the day.
Along with all that, transporting your guests via bus will grant them a few more advantages too. For instance, everyone wants to look their best at a wedding ceremony, but keeping the perfect look while riding a limo or taxi might not be always possible due to lack of proper space. With a charter bus, everyone can sit comfortable without having to ruin their dress. Our fleet of luxury buses are spacious, air conditioned and most important punctual. That means you can rest on us to pick up all your guests from the designated spots and make sure that your whole wedding party gets to arrive together and on time. Even parking will not be any issue, so you can just get on with enjoying your evening.
When it is your special day, you do not want to be overwhelmed with worries. Your guests are important, and we are here to make sure that they are picked up and dropped off in time, safely and comfortably. At the end of the day, here at Gold Coast Coaches, all we aim to do is help you experience the perfect stress-free wedding, and be glad you said "I Do" to our wedding bus rental service.